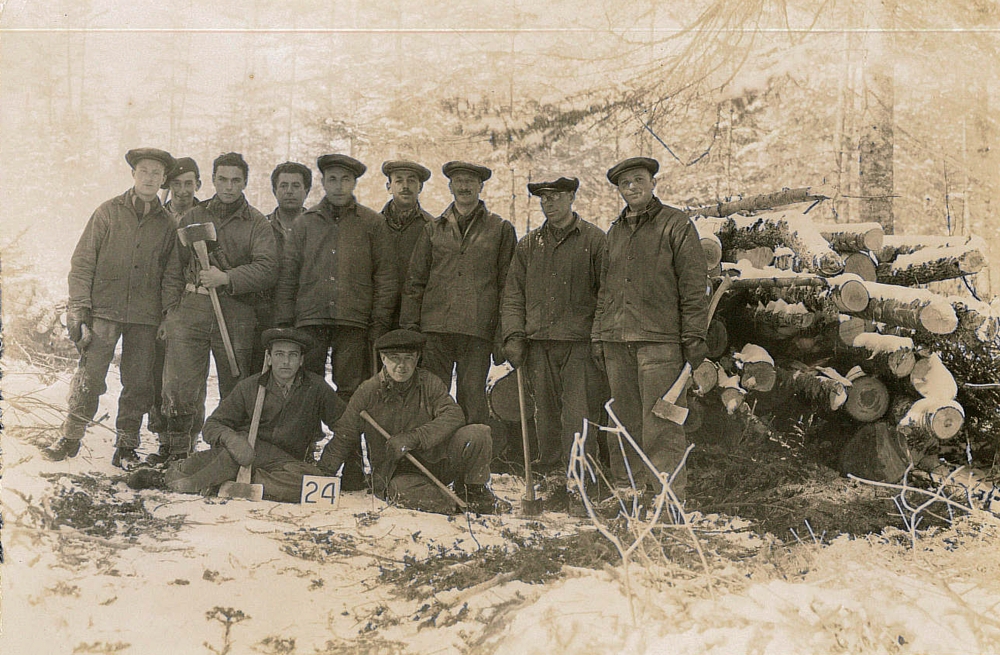 In 1940, Canada agreed to a request from Britain to aid the war effort by taking in "enemy aliens" and prisoners of war. The men were deported from England to Canada and imprisoned in internment camps throughout New Brunswick, Ontario, and Quebec. On August 12, 1940, 717 refugees were transported by train from internment Camp T in Trois-Rivieres, Quebec, to the densely forested Camp B in Ripples, New Brunswick. Expecting to meet dangerous fascists, Colonel A.T. MacLean was instead confronted with a large group of religious Jews and 425 young men between 16 and 20 years old.
From October 1940 until June 1941, Camp B was a completely Jewish internment camp. Guards made certain allowances to accommodate the religious practices of the internees. Kitchen facilities were set aside for kosher groups in the dining hall, which also doubled as a synagogue on Saturdays.
At first, labour was mandatory. Internees worked outdoors in the woods, chopping down trees for the Acadia Forest Experiment Station. Formal education, on the other hand, was seen as a way to defy authority and therefore forbidden. "In order to study", recalled one refugee, "we disappeared … right after roll call… to the toilets. They didn't look in the toilets." Eventually camp schools were permitted. Sixty rabbinical students pursued religious studies, former university students prepared teenagers for high school enrollment, and world-renowned experts gave lectures in the camp.